After The Lights Went Out
C J Monahan
CJ is age 26, 6'3", 227 and muscular with brown hair. Long arms and a confident build with green eyes.
Description:
C J in the NCAA National Title game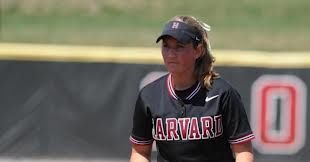 C J's Ex Rachale Page, the same year playing for national champion Harvard in softball.
Noticable traits..
Attractive
Charisma 1
Impulsive
Charitable
Overconfident
Bio:
C J Monahan was born Charles Joseph Gallaudet on 1/1/1988 at 12:06 am and one of 3 new year's babies of that year, sadly he was the second so all the cool prizes for being baby new year went to another family. As you may have guessed Mr. and Mrs. Gallaudet were not overly wealthy but mommy had a plan and 5 years later as Mrs. Monahan she provided a far better lifestyle for her new child.
Mr. Monahan was a wealthy stock broker with a high-rise apartment in Bell Town in downtown Seattle so mommy was rather satisfied with her upgrade but proof Murphy Law works in mysterious way, 4 years later daddy won a small lotto jackpot and set out to spend it as hot and fast as he could. His erratic lifestyle caught up with him and killed him in 12 years so when CJ turned 17 what was left of daddies winnings was willed to only him, so that "greedy bitch, won't see a dime." As you can imagine a lot was spent right away, and between the winnings and scholarship Stony Brook seemed like the school to choose, because now it was in his price range.
C J spent all his growing years an only child, Not that this had much impact on Mr. George Monahan Sr. George believed C J to be just the excess baggage that came with the prize. C J came from modest means so by breeding alone there was no way he could ever amount to anything. The rich get richer, the lesser get weeded out by superior breeding. The result of this thinking was that C J and George never bonded and George was constant and quick to point out how C J would never succeed. This may have been callous nature or a motivating tool. But if it was the latter it was never explained and C J maintained a stern chip on his shoulder towards his step father. As a motivational tool it proved quite successful as C J was an honored student in all of his academic levels up to and including college. And he was athletically gifted excelling in baseball as a pitcher. His most recent year seeing him pitch the Stony Brook Seawolves to an AA division NCAA national title. George did not attend; he brokered a stock deal instead. George holds no interest in sporting events and finds them a waste of time and resources when one could be focusing on money. Over the years this belief became clear also to Gina Louise Dresher-Gallaudet-Monahan, C J's mother. While C J and his mother maintained a close bond there was bitter disapproval on how his mother conducted herself in the betterment of their lives. C J saw it as selling out and felt robbed of life with his rightful father. The denial of contact left C J with a lot of questions. When father won the Lottery C J was again met with some disappointment as Dan Gallaudet (C J's birth father) did not make first effort to make contact with his son, instead went on a bender that would ultimately claim his life.
C J tried to maintain a basic normal childhood, but he had few friends. He had lots of acquaintances and developed an uncommon generosity towards people in general. His giving nature was often met with surprise by his peers and he maintained few friendships, he never let people get close. He chose instead to make the rounds to as many as possible and know far more people. His sphere of influence was huge; it wasn't until age 15 when anyone got close to him.
Rachael Page was another girl from the neighborhood. Her parents lived in the same Bell Town Tower as C J's family and every day whether he wanted to or not they saw each other. From the age of 8 on they were a fixture in each other's lives but it was always a friendship until they graduated high school and went away to college. Rachael was a championship caliber softball star who went to Harvard on Scholarship. Their last year of high school, before graduation bother of their respective parents forbid time to speak to each other apparently fearing a connection of a more adult nature and deciding that was not in either families best interest. But at the college World Series games in DC in their first year in college they ended up quite by accident at the same after hour's hotel party with team mates. Mix a little alcohol with familiarity and they found themselves waking up to discover they'd become a couple. There were odd feelings at first but a quiet comfort developed and it became ok. It wasn't until 2 years later they let the secret out to their families. It was not well received and again both sets of parents vowed to end it. In the array of attempts to break the couple and the threats that followed eventually false evidence, misinterpretations and a small degree of underhandedness succeeded. Rachael Page vowed she'd never date C J again unless he was the last man on Earth! How ironic this may now be the case.
So home now for the holidays and wanting to celibate his birthday with the New Year, C J has followed his step father to a yacht party where things are about to get dark.